The history of Keukenhof dates back to the 15th century. Countess Jacoba van Beieren [Jacqueline of Bavaria] (1401-1436) used 'Keukenduyn' [kitchen dunes] as hunting ground for the kitchen of Teylingen Castle. Keukenhof Castle was built in 1641 and the estate grew to encompass an area of over 200 hectares.

Landscape architects Jan David Zocher and his son Louis Paul Zocher, who also designed Amsterdam's Vondelpark, redesigned the castle gardens in 1857. That park, in the English landscape style, still constitutes the basis of Keukenhof.

In 1949 a group of 20 leading flower bulb growers and exporters came up with the plan to use the estate to exhibit spring-flowering bulbs, signaling the birth of Keukenhof as a spring park. The park opened its gates to the public in 1950 and was an instant success, with 236,000 visitors in the first year alone. 2024 will be the 75th edition of Keukenhof. During the past 74 years Keukenhof developed into a world-famous attraction.
Keukenhof is the international and independent showcase for the Dutch floricultural sector, with a special emphasis on flower bulbs. In the space of eight weeks Keukenhof shows what the Dutch floricultural sector has to offer. The park's focus is on the 7 million spring-flowering bulbs, which allow the 100 participating companies to show their living catalog. 500 flower growers present an enormous variety of cut flowers and pot plants at the over 20 flower shows.

That's what makes Keukenhof an excellent opportunity to network and meet business contacts. Trade events for growers are also organized regularly. Keukenhof has strong ties with all the relevant organizations in the floricultural and tourist sectors.
Disclaimer
This website was compiled with the utmost care. However, Keukenhof cannot guarantee that this website will operate without error or interruption. Neither Keukenhof nor any other participating party shall assume any liability for any damage or loss caused or alleged to be caused by or in connection with the use of this website. Keukenhof accepts no liability for the content of websites it does not maintain that are linked to. You may not frame this site. This website and its content are protected by intellectual property rights and all rights are explicitly reserved. Unless otherwise stated, these rights are all held by Keukenhof.
Keukenhof reserves the right to make changes at any time without issuing prior notice. Personal information will be treated as confidential. The use of 'cookies' and the logging of IP addresses are solely intended to improve the site. Cookies are small text files that are stored on your computer's hard drive or memory when you visit an internet site. The use of cookies can be disabled in your browser. Keukenhof does not use cookies to gather (personally identifiable) information. All aspects of this website are governed by Dutch law. The general terms and conditions of Keukenhof (the Park Regulations) apply to all visitors to Keukenhof.
Contact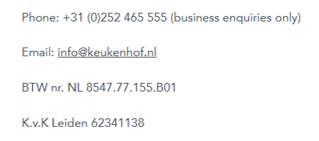 Lost and found
Have you lost something? We place all lost and found items online. Click on the iLost button to see if your item has been found. We put lost items in iLost inside a week.
If your lost item is listed please let us know as soon as possible. By answering a couple of questions we can verify that it really is your lost property. After that it is very simple: you either pick up your found item or have it delivered to your home.
iLost
Photo and videography
The use Keukenhof's name and/or photographs and videos for commercial purposes is also prohibited.