Whisper boat around Keukenhof
Relax as you enjoy the peace and quiet typical Dutch landscape around Keukenhof in an electrically-propelled whisper boat. The boat trip takes 45 minutes and will be enriched by an audio tour about the flower bulb region.
Tickets
Adults (incl. 65+) €10,00
Children (aged 4-11) €5,00
Children (aged 3 and younger) Free of charge
Order whisper boat tickets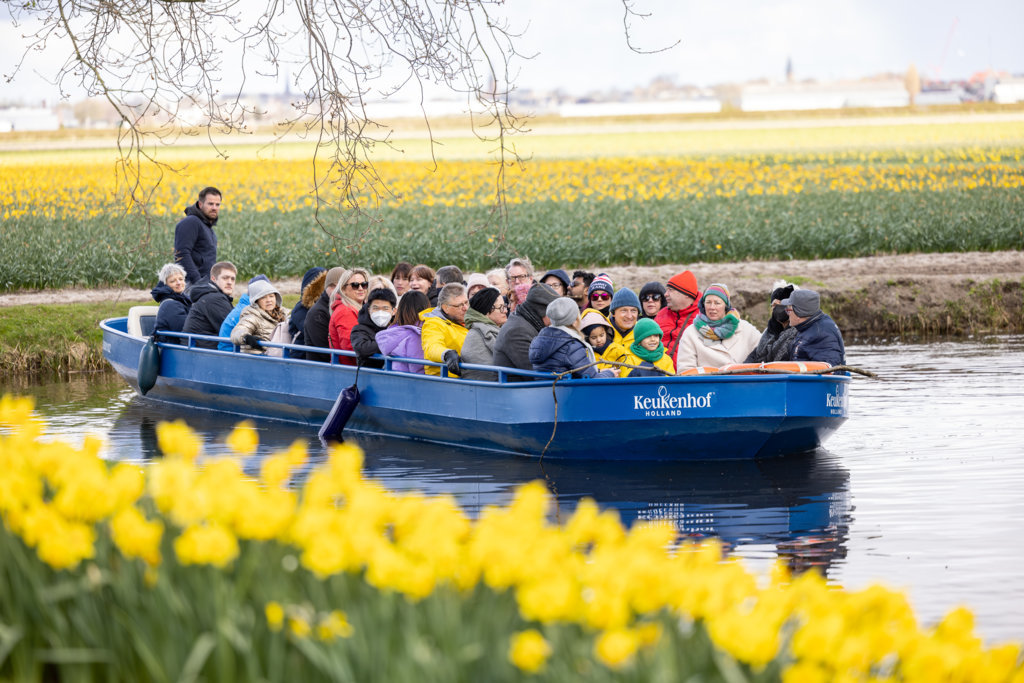 When do the bulb fields bloom at their best?
Tulips are natural, so Keukenhof depends on the weather. Should there be fewer flowers in bloom, we will nevertheless offer you a beautiful cruise and accompanying audio tour.
March: blooms depending on the weather.
April: first blooming bulb fields in early April; most bulb fields will be in bloom by the second half of the month.
May: the final bulb fields will be blooming.
What if I miss the boat?
Should you miss the boat you will not be eligible for a refund as you reserved for a specific date and time.
Where can I leave my stroller or can I take it on the cruise with me?
you can leave your stroller on the jetty where the boats depart. There is supervision, however leaving the stroller there remains at your own risk.
Which languages is the audio tour provided in?
The audio tour is available in Dutch, English, German and French.
I have difficulty walking, can I come along anyway?
If you can board/disembark with a little help, then you can join us on the cruise.
Is the boat wheelchair accessible?
You can leave your wheelchair on the jetty by the boats. There is supervision, however leaving your wheelchair there remains at your own risk.
Can I take my dog on the cruise?
Yes, dogs are permitted, but must be leashed.
Can I walk in the bulb fields?
No, you may not walk in the bulb fields as this damages the bulbs. The fields are owned by the bulb growers. You can however photograph them from the boat.
How long does it take to walk to the boats from the main entrance?
It's approximately a 20-minute walk to the boats.
How long in advance should I go to the box office to collect tickets?
You can collect the tickets from the box office next door to the windmill 15 minutes before departure.
Do you supply life jackets for children?
You can borrow life jackets for kids and we will help them put them on.